Bullying is an unfortunate part of life that many people experience at some point, which can lead to extreme trauma. But for a boy with dwarfism – Quaden Bayles – who faced horrific bullying at school, landed himself in a blockbuster movie after a video of his distress went viral. 
Quaden Bayles' heartbreaking viral video
Quaden Bayles, an Australian indigenous boy who lives with dwarfism was so badly bullied and inconsolable after a day at school in 2020 that his mother videoed his distress after apparently getting nowhere talking to the school.
In the video, his mother, Yarraka, informs viewers that her son (who was aged nine at the time) is picked on for his condition known as achondroplasia:
"I've just picked my son up from school, witnessed a bullying episode, rang the principal, and I want people to know — parents, educators, teachers — this is the effect that bullying has," Yarraka said as Quaden cried.
"Every single… day, something happens. Another episode, another bullying, another taunt, another name-calling."
She added: "So, can you please educate your children, your families, your friends because all it take is for one more incident and you wonder why kids are killing themselves."
The video went viral and Quaden and his family have received huge support worldwide. He is now to star alongside Chris Hemsworth in the upcoming film, Furiosa.
What is dwarfism?
Dwarfism is poor bone growth that results in people being short. The bones don't grow properly. Quaden lives with Achondroplasia, the most common type of dwarfism in people who have disproportionate short stature, (DSS.)
It is a rare genetic condition and most people who have the condition are born to average-sized parents, like Quaden.
Individuals living with Achondroplasia can expect to have a normal life expectancy and intelligence. There is no reason why someone with this condition cannot participate in most activities just like any able-bodied individual.
Achondroplasia characteristics
The average height of an adult male with achondroplasia is four feet, four inches, according to the National Institutes of Health.
People with Achondroplasia have a range of characteristics including:
A near-normal trunk length with shorter arms and legs
A large head with a prominent forehead and flattened bridge of the nose
An increased curvature of the lower spine (lumbar lordosis)
Bowing of the lower legs
Possible crowded teeth
Short, broad feet and hands with separation between middle and ring fingers (the 'trident' hand)
Exceptionally flexible joints
Babies with Achondroplasia may develop motor skills and mobility more slowly than normal because of the combination of a heavier head and shorter arms and legs, but ultimately development is within the expected normal range.
Quaden Bayles' rugby and film stardom
Following the viral video, Quaden was shown support and asked by The National Rugby League's Indigenous All Stars team to lead out the side for their match against the Maori All Stars in February 2020.
Quaden – who is passionate about rugby – held the hand of team captain Joel Thompson and led them out on to the pitch accompanied by roars from the crowd.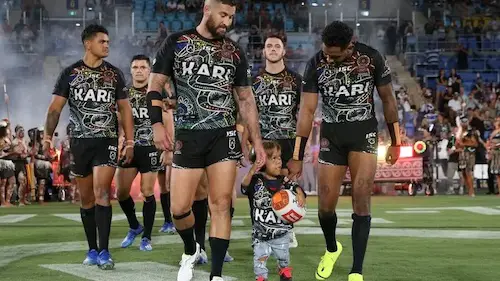 Oscar-winning Australian filmmaker George Miller, also saw the video posted by Quaden's mother and invited Quaden to appear in his upcoming film Three Thousand Years of Longing.
According to Miller, Quaden did such a good job that he was asked to appear in Furiosa too.
It was good for us and it was good for him," Miller told Good Weekend magazine.
Quaden Bayles bags role in Mad Max: Furiosa
Furiosa is the latest film to be announced in the Mad Max series. Mad Max is an Australian action series and media franchise created by George Miller and Byron Kennedy.
In the upcoming film Furiosa, prequel to Mad Max: Fury Road, the story will take place several years before the events of Fury Road and it will focus primarily on a character called Furiosa.
Furiosa is a war captain who answers to Immortan Joe in Mad Max: Fury Road. She is unhappy in her role and wants to leave his cruelty.
She starts out serving Joe but quickly turns against him to free The Five Wives, Joe's female concubines.
Mad Max: Furiosa is said to include Queen Gambet star Anya Taylor-Joy as a young Furiosa, along with Chris Hemsworth, Tilda Swinton, Idris Elba, Nathan Jones and Tom Burke.
Now aged 11, Quaden's role is unknown at this point. The film is expected to be released on 24th May 2024.
By Lucy Currier
More on Disability Horizons…