Mark asked me to write his story after I interviewed him so I'm including it here.
Mark Noble is a professional artist who has dyslexia and autism, which means he is very sensitive to light and colour. Describing himself as very observant, he tries to break down boundaries and raise awareness of disabilities through his art. Mark says, "Some of my art has centered around the struggle of being ignored and misunderstood." This is his story.
Hello there! My name is Mark Noble and I'm a professional artist based in Somerset, specialising in romantic/impressionist-style landscapes and seascapes.
Fellow artists have given me the title 'Turner of the 21st century.' I call myself the 'painter of light'. I'm currently producing and promoting environmentally-friendly art and raising awareness of dyslexia and autism.
I was born in Southampton and moved to Somerset in the early 70s. I love being by the sea and exploring the beautifully diverse landscape of the South West.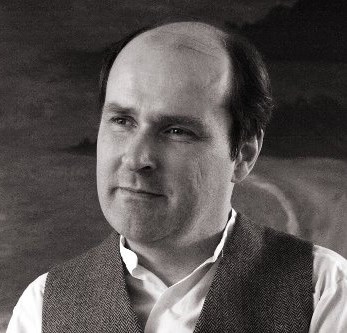 Becoming and working as a disabled painter
While I found it hard to concentrate and learn through traditional teaching methods at school, with some assistance, I did manage to gain some good qualifications.
However, people noticed that I had a rare artistic gift. For the most part, I taught myself how to paint.
I paint with passion, use natural colours and try my best to capture the little details that are often overlooked.
My main motivation is seeing others react positively to my work: people have told me that my art has triggered an emotional response – they may spot something that reminds them of childhood, for example. This fills my heart with joy.
My techniques vary from painting to painting. Most of the time I use washes of warm colours and thick paints to build up paintings. I have many different tools at my disposal – paint brushes, pallet knives, etc.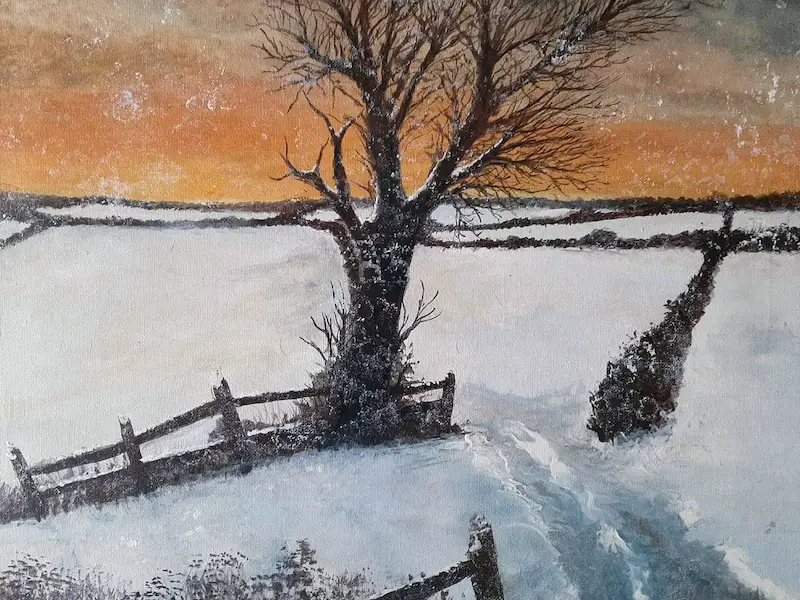 As a rule, I never use black or green straight from a can. Black kills the canvas and green paint is usually man-made. Instead, I prefer to mix natural colours to form green, it seems to work well!
My main medium is acrylic on canvas, but I've recently been experimenting with painting on all kinds of recyclable materials, including bark, tiles and tabletops.
When I can, I prefer to use a simple colour palette. In my opinion, the two most important things are to a) enjoy creating art and b) keep things as simple as possible.
Since finishing my studies, I've sold art to clients all over the globe, taught people of all ages how to paint and take part in many exciting exhibitions.
One of my biggest achievements was being selected by the government to display art at an exhibition in Westminster, celebrating the 40th Anniversary of the Disability Rights Act.
I'm also proud to say that I've raised money at several exhibitions/arts events for charities, such as Children's World and SANE.
I continue to receive help and guidance from some close friends who help me to organise, catalogue and promote my art, update/maintain my website, social media and apply for funding.
My art during the Covid-19 pandemic
I've just finished painting a large mural – a sunset seascape – on a wall in my spare bedroom. I painted abstract paintings that expressed my feelings during the first lockdown. They were quite explosive!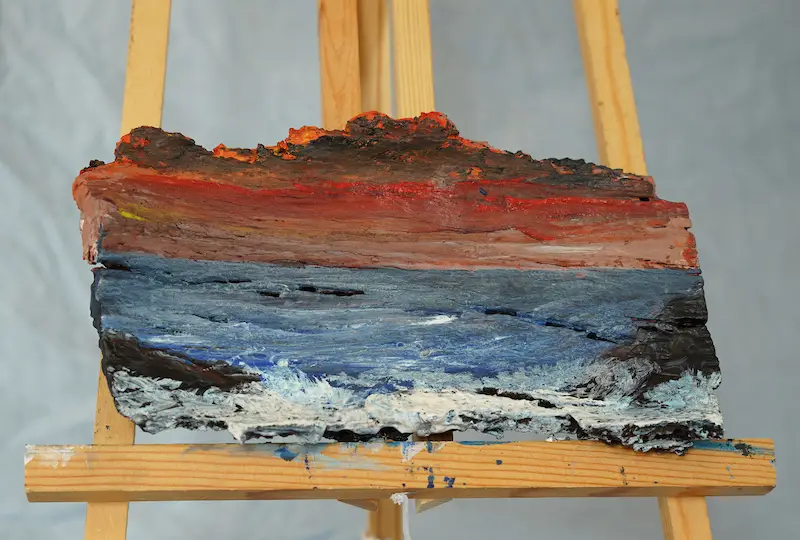 The pandemic helped me to appreciate the important things in life. I revamped my studio, became more active on social media and showcased my creative art via online galleries. I also participated in online interviews and shared positive messages.
The pandemic has shown that 'the arts' (painting, sculpture, music, literature etc) are more important than ever. We need to protect artists and the industry to ensure that everyone can express themselves freely.
Art plays an important role in today's society, especially for the wellbeing of disabled people. Painting helped me get over alcoholism a few years ago.
In March 2021, I became an ambassador for 'Outside In'. It is a British charity dedicated to assisting and promoting disabled artists. I'm very proud to be a part of the team.
Last month, I secured funding to paint with children at a school in Glastonbury with local artist Julie Lovelock. I am keeping my mind busy and doing my best to stay flexible and focused.
My family are always been a source of inspiration and motivation. I'm creating unique, beautiful art; working on new projects; meeting new artists and exhibiting in physical galleries once again!
Moving forward, I want to continue raising awareness of climate change and engage with a wider audience. I would also like to do more to expose discrimination against disabled people, whenever and wherever it occurs.

My advice to other disabled artists
My advice to people with a disability who want to paint would be to try to get as much support as possible. Research different charities, be inspired, be creative and most importantly, don't let it get you down!
Technology helps too: text to speech services, audiobooks, etc. Many organisations are willing to provide funding if you can show that your work benefits others or it spreads a positive message.
The most important thing is to believe in yourself and your own creative ideas.
Take ideas/inspiration from other artists and visit as many galleries as you can. Travel the world if you are ever able to. Respect your fellow artists. Look beyond a canvas and ask yourself what an artist may have been thinking when they were producing their work.
My best technical tip is to keep your paintbrush clean with warm water. Seems simple, but many people forget. I use a large range of different tools and always encourage others to be inventive!
By Mark Noble
Find out more about Mark and his work by visiting Mark Noble's website, and follow him on Facebook, Twitter, LinkedIn and Instagram.
More on Disability Horizons…